I'm not a big fan of cranberry. When cranberry is incorporated into bread or cake, I'll eat it. I'll also drink cranberry juice. I find cranberry tangy and sour for a tiny piece of fruit as small as an aratilis. When I found Rose Levy Beranhaum's recipe for Cranberry Banana Walnut Quick Bread, I had to try it for two reasons. I learn from making Rosy's recipe on The Bread Bible that she is a very good baker. I have tried many of her recipes such as Brioche, Challah, Royal Irish Soda Bread and Cranberry Banana Walnut Quick Bread is not far from what I had expected. Although this recipe is not originally her creation, I love it. After letting the bread sit for more than 12 hours, the cranberries have macerated and have mellowed its tanginess. The other reason is I want to use a big bulk of cranberries in my freezer. I want to make something out of a big bag of cranberries. I need to make bread for tomorrow and I decide to incorporate cranberries into my bread. I have two notes here. The only ingredient that I do not have available when making this bread is walnut. I substitute pecan for walnuts. I like pecans in banana bread and brownies and I want to try it with this bread. Perhaps if walnut can be substituted, cranberries can be substituted as well. It might be difficult to find cranberries in Philippines but as I have mentioned earlier these cranberries look like, although do not taste like aratilis. Why not? When your kids are hanging around the park and they bring home 2 cups of aratilis, make Aratilis Banana Pecan Bread. I know if I were in my house in Novaliches I would certainly try it.

Cranberry Banana Pecan Bread
Adapted from Rose Levy Beranhaum's The Bread Bible

2 cups minus 1 tb all purpose flour
1 tsp baking soda
1 tsp salt
4 tb butter, soft
1 c brown sugar
2 brown eggs
1 large very ripe banana
3 tb sour cream
1 tsp vanilla extract
2 c cranberries
1 c pecans toasted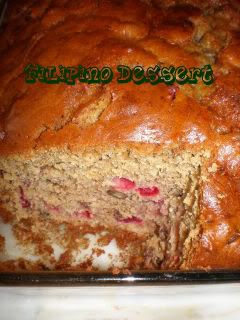 Combine flour, baking soda, and salt. In another bowl, cream the butter, sugar, then add eggs, banana, sour cream, vanilla. Add flour mixture and beat until incorporated. Add cranberries and pecans. Heat oven to 350 degrees F. Bake for 45-55 minutes.